Der Einsteigerkurs zu PowerShell Desired State Configuration, den Jan-Henrik Damaschke (ebenfalls CDM MVP) und ich letztes Jahr erstellt haben, ist nun auch endlich in der Microsoft Virtual Academy (MVA) online, und zwar zu finden unter diesem Link:
https://mva.microsoft.com/de-de/training-courses/powershell-dsc-einsteigerkurs-17238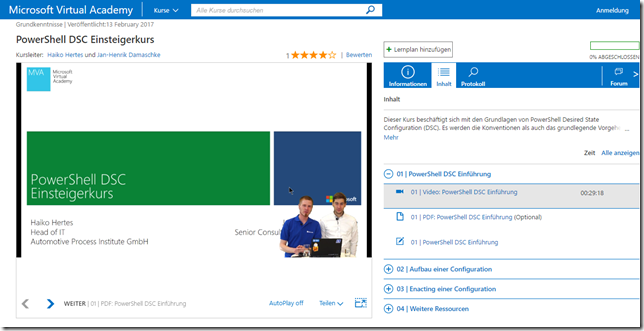 Viel Spaß damit!
Pssst: Wir beide werden schon bald den Fortgeschrittenen-Kurs aufzeichnen, bleibt also dran!
Gestern Abend war ich zu Gast bei #Geeksprech. Cloud and Datacenter MVP Eric Berg hat mir viele Fragen zu PowerShell gestellt und ich habe Sie nach bestem Wissen beantwortet. Außerdem sind wie über das eine oder andere Randthema ins Gespräch gekommen.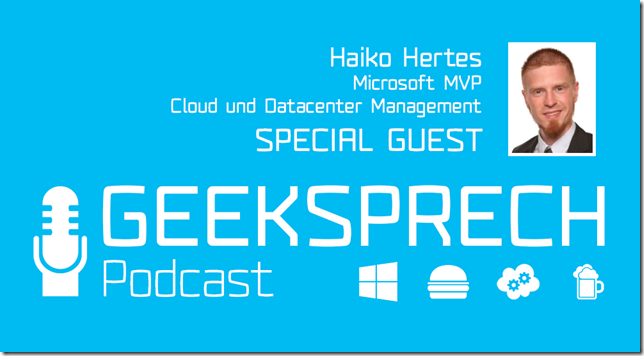 Die Aufzeichnung findet ihr als Podcast auf verschiedenen Plattformen:
Facebook-Auftritt von Geeksprech
Hört mal rein – es lohnt sich! Und an Eric: Danke für die Einladung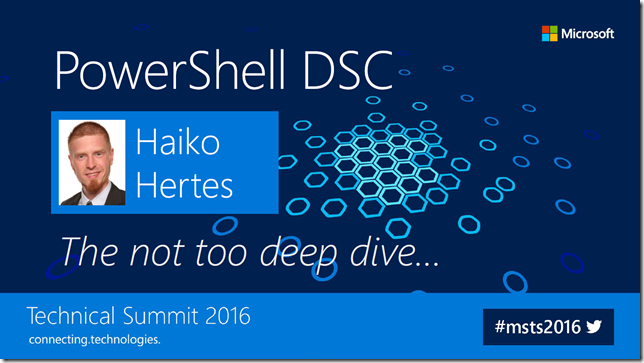 Ihr könnt die aufgezeichnete Session über PowerShell DSC auf dem MSTS in Darmstadt jetzt auf Channel9 ansehen:
https://channel9.msdn.com/Events/microsoft-techncial-summit/Technical-Summit-2016/Windows-PowerShell-50-Desired-State-Configuration-DSC
Viel Spaß dabei!
Die Slides dazu gibt es hier:
https://download.microsoft.com/download/7/9/D/79DF0CF6-F98C-423B-87A6-1C92E71118DD/211645_WindowsPowerShell50DesiredStateConfiguration.pdf
Für all diejenigen, die meine Demos aus der Technical Summit Session zu PowerShell DSC ausprobieren wollen oder einfach nur die Inhalte nochmal nachlesen wollen, biete ich hier meine Slides und Samples an.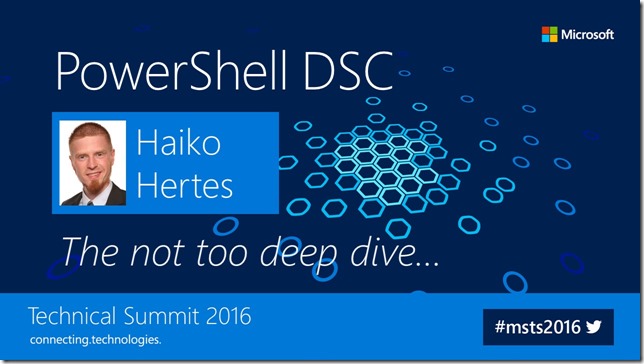 Zum Ausprobieren braucht ihr einfach nur 3 Windows Server 2016, am besten als VM in Hyper-V. Meine VMs heissen SRV1, SRV2 und SRV3, aber wenn ihr die Skripte anpasst sind natürlich auch andere Servernamen ok.
Hier nun also die Links zum Download:
Die Samples (also die PowerShell Skripte):
MSTS16_Haiko_Hertes_PowerShell_DSC_-_The_not_too_deep_dive_Samples.zip
Die PowerPoint-Slides:
MSTS16_Haiko_Hertes_PowerShell_DSC_-_The_not_too_deep_dive.pdf
Wenn beim Versuch, PowerShell DSC Konfigurationen von einem Windows Server 2016 als Pull-Server auf andere Server der selben Generation zu schicken, neuere Ressourcen verwendet werden, dann kann u.U. folgender Fehler auftreten:

Fehlermeldung nochmal vollständig:
"The PowerShell DSC resource MSFT_RoleResource from module <PSDesiredStateConfiguration,1.0> does not exist at the PowerShell module path nor is it registered as a WMI DSC resource."
Grund ist ein unterschiedlicher Patch-Stand zwischen den einzelnen Servern. Abhilfe schafft also ein einspielen der entsprechenden Patches.