Im Windows Server 2012 R2 und 2016 steckt ja nun schon seit einer Weile die so genannte "Shared Nothing Live Migration", die es möglich macht, VMs zwischen Hyper-V-Hosts zu verschieben (auch im laufenden Betrieb), ohne, dass die VM auf einem Hyper-V-Cluster laufen muss, entsprechend ist hier auch kein Storage nötig.
Für die Shared Nothing Migration gibt es zwei Protokolle zur Authentifizierung: CredSSP und Kerberos.
CredSSP ist an sich sehr einfach in der Benutzung, bedarf es doch keiner echten Einrichtung. Lediglich den richtigen Radio-Button auswählen, einmal ab- und wieder anmelden und das war's. Aber die Sache hat einen Haken: Bei CredSSP kann man nur dann eine VM verschieben, wenn man (lokal oder z.B. per RDP) an dem Hyper-V-Host angemeldet ist, von dem man die VM weg-verschieben will. MMC-Remoting mit dem Hyper-V-Manager geht hier nicht! Versucht man es doch, bekommt man folgende Fehlermeldung: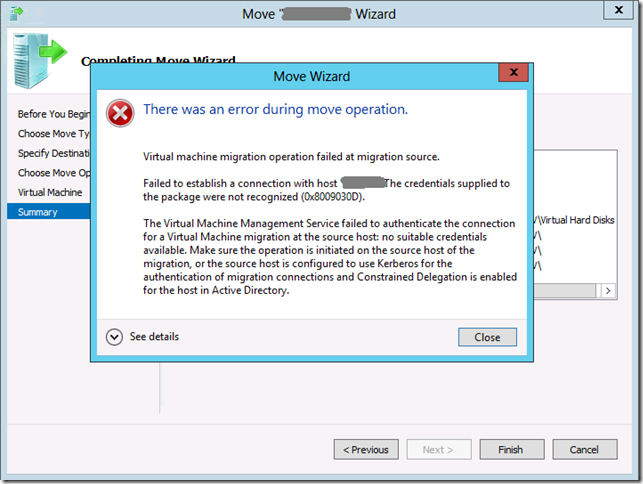 Im Wortlaut: "Failed to establish a connection with host HOSTNAME. The credentials supplied to the package were not recognized (0x8009030D)."
Insbesondere bei Core-Servern, auf denen es keinen Hyper-V-Manager gibt, wird das Verschieben also einigen Administratoren schwer fallen (wenngleich PowerShell eine nutzbare Lösung wäre).
Auch wenn man jetzt einfach im Hyper-V-Manager auf Kerberos umstellt: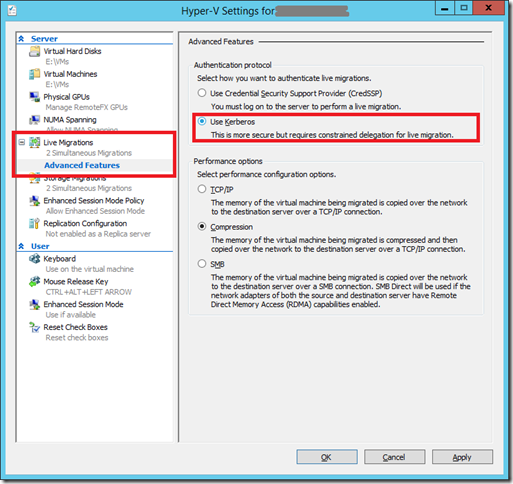 ..kommt es immer noch zu einem Fehler: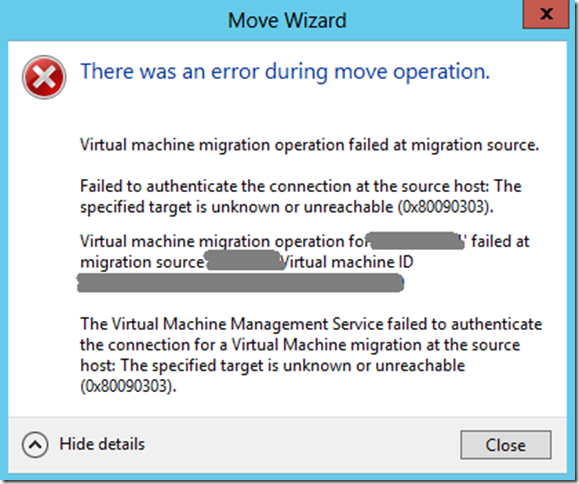 Im Wortlaut: "The Virtual Machine Management Service failed to authenticate the connection for a Virtual Machine migration at the source host: The specified target is unknown or unreachable (0x80090303)."
Was hier fehlt ist die sogenannte "Constrained Delegation". Diese einzurichten ist an sich nicht kompliziert, bei steigender Host-Anzahl aber etwas aufwändiger (eine einfachere PowerShell-Lösung versuche ich zeitnah nachzuliefern).
Zur Einrichtung benötigt man Schreibrechte auf den Computer-Objekten der Hyper-V-Hosts im Active Directory oder einfacher gleich einen Domain-Admin-Account.
Über die "Active Directory Users and Computers" öffnet man sich nun der Reihe nach die Computerkonten aller Hyper-V-Hosts und führt dort folgende Einstellung durch:
Im Ergebnis muss es auf jedem Host so aussehen: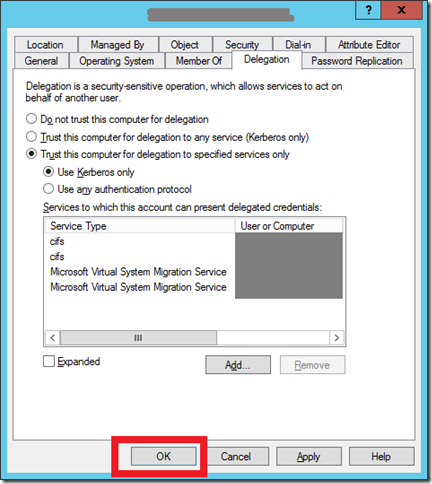 Jeder Host muss jedem anderen bei den Diensten "cifs" und "Microsoft Virtual System Migration Service" vertrauen. Kerberos alleine genügt.
Danach muss man natürlich die Hyper-V-Hosts auf Kerberos-Migration umstellen (oder dies zumindest noch einmal überprüfen!)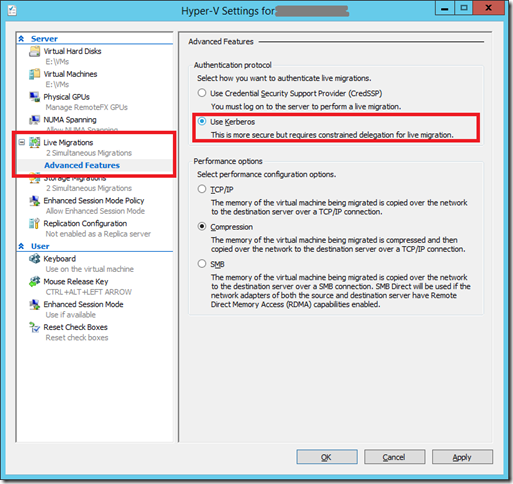 Das war's dann schon! Jetzt kann man von jedem Client oder Server aus mittels Hyper-V-Manager auf die Hosts zugreifen und eine Verschiebung initiieren. Viel Spaß dabei!
Hinweis: In einem neueren Artikel zeige ich, wie man die Delegierung unkompliziert per PowerShell einrichten kann:
Hyper-V & PowerShell – Kerberos Delegierung für LiveMigration für mehrere Server gegenseitig eintragen
Unmittelbar vor meiner heutigen Session auf dem Summit hat mit ein Vögelchen gezwitschert, dass die Microsoft Entwickler gerade daran arbeiten, PowerShell DSC in den nächsten Wochen, vermutlich noch im Januar oder Februar 2017, auch in der Deutschen Cloud verfügbar zu machen. Ein Grund mehr, das Ganze mit der bald verfügbaren Free Trial zu testen! 
Für all diejenigen, die meine Demos aus der Technical Summit Session zu PowerShell DSC ausprobieren wollen oder einfach nur die Inhalte nochmal nachlesen wollen, biete ich hier meine Slides und Samples an.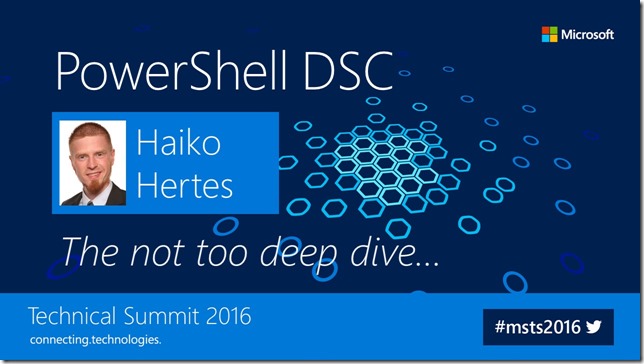 Zum Ausprobieren braucht ihr einfach nur 3 Windows Server 2016, am besten als VM in Hyper-V. Meine VMs heissen SRV1, SRV2 und SRV3, aber wenn ihr die Skripte anpasst sind natürlich auch andere Servernamen ok.
Hier nun also die Links zum Download:
Die Samples (also die PowerShell Skripte):
MSTS16_Haiko_Hertes_PowerShell_DSC_-_The_not_too_deep_dive_Samples.zip
Die PowerPoint-Slides:
MSTS16_Haiko_Hertes_PowerShell_DSC_-_The_not_too_deep_dive.pdf
Auf einem Test-Host unter Windows Server 2016 mit Hyper-V ist mir heute folgende Fehlermeldung im Eventlog aufgefallen: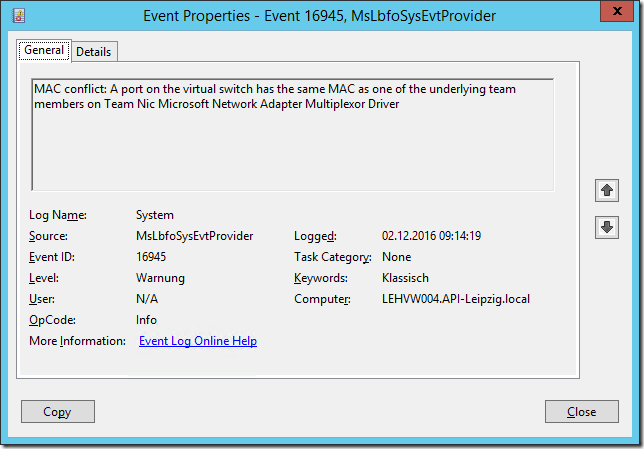 (MAC Conflict: A port on the virtual switch has the same MAC as one of the underlying team members on Team Nic Microsoft Network Adapter Multiplexor Driver) – Source: MsLbfoSysEvtProvider / Event-ID 16945
Wenn man mittels PowerShell nach den MACs schaut bestätigt sich das auch schnell:
Get-NetAdapter | Sort MacAddress

Als Lösung habe ich die MAC des Teams (mittels PowerShell, da es ein Core-Server ist) geändert:
Get-NetAdapter "Name" | Set-NetAdapter –MacAddress 00-00-00-00-00-00