Im Windows Server 2012 R2 und 2016 steckt ja nun schon seit einer Weile die so genannte "Shared Nothing Live Migration", die es möglich macht, VMs zwischen Hyper-V-Hosts zu verschieben (auch im laufenden Betrieb), ohne, dass die VM auf einem Hyper-V-Cluster laufen muss, entsprechend ist hier auch kein Storage nötig.
Für die Shared Nothing Migration gibt es zwei Protokolle zur Authentifizierung: CredSSP und Kerberos.
CredSSP ist an sich sehr einfach in der Benutzung, bedarf es doch keiner echten Einrichtung. Lediglich den richtigen Radio-Button auswählen, einmal ab- und wieder anmelden und das war's. Aber die Sache hat einen Haken: Bei CredSSP kann man nur dann eine VM verschieben, wenn man (lokal oder z.B. per RDP) an dem Hyper-V-Host angemeldet ist, von dem man die VM weg-verschieben will. MMC-Remoting mit dem Hyper-V-Manager geht hier nicht! Versucht man es doch, bekommt man folgende Fehlermeldung: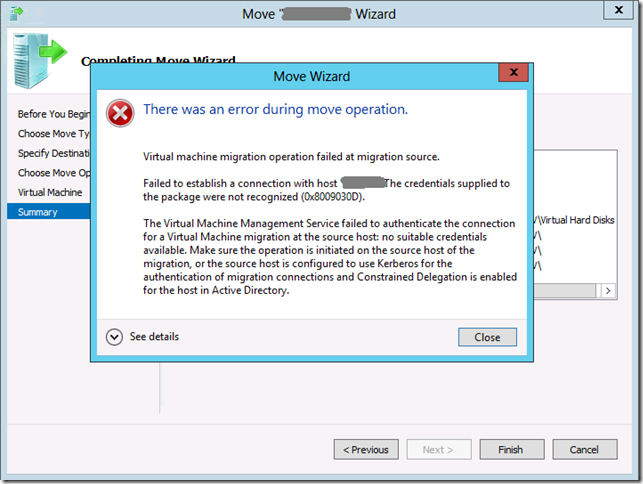 Im Wortlaut: "Failed to establish a connection with host HOSTNAME. The credentials supplied to the package were not recognized (0x8009030D)."
Insbesondere bei Core-Servern, auf denen es keinen Hyper-V-Manager gibt, wird das Verschieben also einigen Administratoren schwer fallen (wenngleich PowerShell eine nutzbare Lösung wäre).
Auch wenn man jetzt einfach im Hyper-V-Manager auf Kerberos umstellt: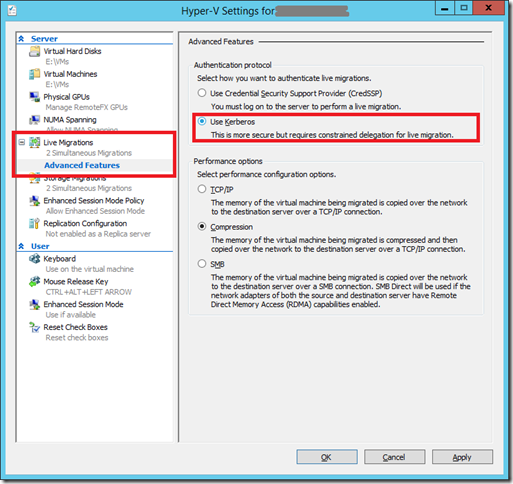 ..kommt es immer noch zu einem Fehler: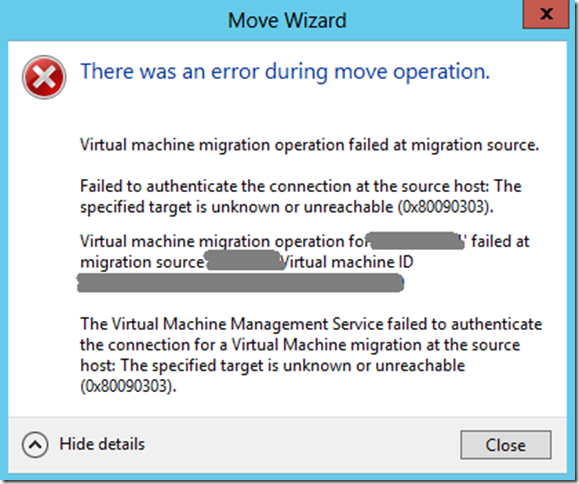 Im Wortlaut: "The Virtual Machine Management Service failed to authenticate the connection for a Virtual Machine migration at the source host: The specified target is unknown or unreachable (0x80090303)."
Was hier fehlt ist die sogenannte "Constrained Delegation". Diese einzurichten ist an sich nicht kompliziert, bei steigender Host-Anzahl aber etwas aufwändiger (eine einfachere PowerShell-Lösung versuche ich zeitnah nachzuliefern).
Zur Einrichtung benötigt man Schreibrechte auf den Computer-Objekten der Hyper-V-Hosts im Active Directory oder einfacher gleich einen Domain-Admin-Account.
Über die "Active Directory Users and Computers" öffnet man sich nun der Reihe nach die Computerkonten aller Hyper-V-Hosts und führt dort folgende Einstellung durch:
Im Ergebnis muss es auf jedem Host so aussehen: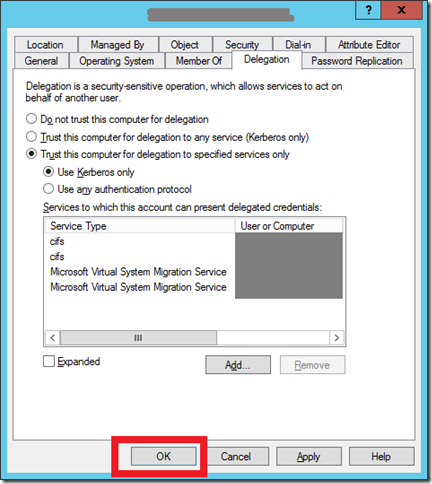 Jeder Host muss jedem anderen bei den Diensten "cifs" und "Microsoft Virtual System Migration Service" vertrauen. Kerberos alleine genügt.
Danach muss man natürlich die Hyper-V-Hosts auf Kerberos-Migration umstellen (oder dies zumindest noch einmal überprüfen!)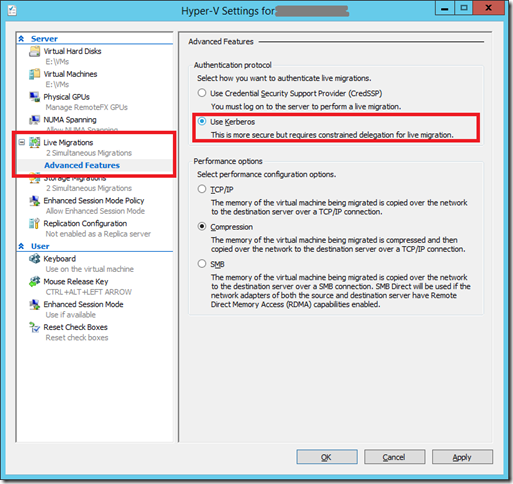 Das war's dann schon! Jetzt kann man von jedem Client oder Server aus mittels Hyper-V-Manager auf die Hosts zugreifen und eine Verschiebung initiieren. Viel Spaß dabei!
Hinweis: In einem neueren Artikel zeige ich, wie man die Delegierung unkompliziert per PowerShell einrichten kann:
Hyper-V & PowerShell – Kerberos Delegierung für LiveMigration für mehrere Server gegenseitig eintragen