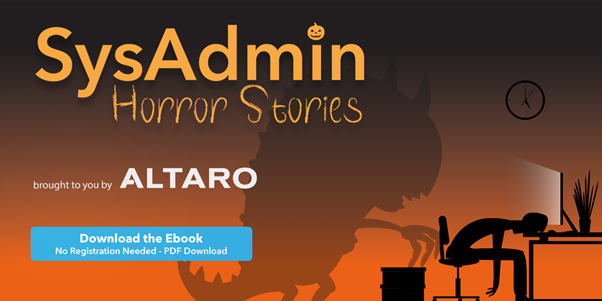 With Halloween only a few days away, this year Altaro gathered SysAdmins' funniest and most horrifying stories into one eBook, especially for you.

We all know that a SysAdmin's job is no easy task and apart from constantly having systems to update, bugs to fix and users to please, SysAdmins encounter all sorts of situations throughout their careers. From tech situations to funny anecdotes, terrible mishaps or incidents with colleagues, this eBook includes real stories of what SysAdmins go through on a daily basis.

The eBook is very easy to download as no registration is required. Click on Download and it's yours. It includes more than 25 short stories but this one is our personal favourite 😊.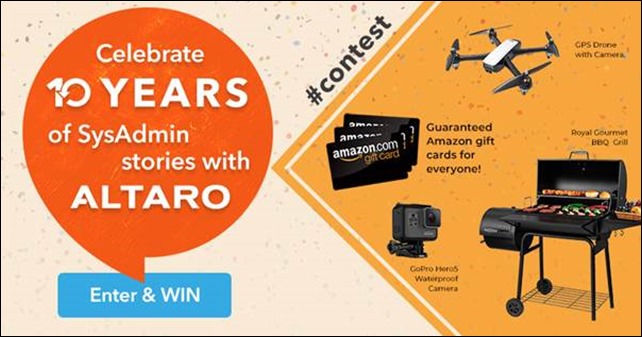 To celebrate their 10th anniversary & SysAdmin Day 2019, Altaro is giving SysAdmins and IT professionals the opportunity to share their best IT story and WIN fantastic prizes!
Throughout our careers, we all gather daily stories worth telling, from tech situations to funny anecdotes, terrible mishaps or incidents with our colleagues. This year everyone is invited to share their best stories for a chance to win big prizes: an amazing Royal Gourmet BBQ Grill, a GPS Drone with Camera & Live Video 1080 HD FPV, a GoPro Hero5 Waterproof Camera & more. And here's a tip: for any eligible subscription they give a guaranteed Amazon eGift voucher!
So, if you are a Hyper-V or VMware user, download Altaro's VM Backup and follow the instructions you will find over here to WIN these exciting prizes!
Enter the competition & make it a year to remember by sharing your best IT story!
Good luck!

Wie schon vor zwei Jahren möchte ich auch in diesem Jahr zum internationalen "System Administrator Appreciation Day", kurz Sysadminday, einladen. Zum wiederholten Mal wird es zu diesem Anlass in Leipzig am 28.07.2017 eine kostenfreie Veranstaltung geben. Ab ca. 14:00 Uhr starten wir mit interessanten Fachvorträgen, ehe wir es uns dann gemeinsam bei Buffet und kühlen Getränken gut gehen lassen werden. Wer erst später dazu stoßen kann ist natürlich genauso gerne gesehen - geplant ist, dass die Veranstaltung bis ca. 21:00 gehen wird. Die Veranstaltung wird durch einige Sponsoren ermöglicht, darunter Microsoft Deutschland , Arvato Systems Perdata GmbH sowie Altaro. Alle Systemadministratoren, IT-Professionals, Entscheider sowie alle weiteren Mitarbeiter der verschiedenen IT-Bereiche sind recht herzlich zu dieser Veranstaltung eingeladen!
Informationen und Anmeldung unter https://www.sysadminday.it - Wir sehen und in Leipzig!
Social Media Events zum Teilen:
https://www.meetup.com/de-DE/wsugle/events/240618027
https://www.xing.com/events/sysadminday-2017-leipzig-1831072
https://www.facebook.com/events/441706699540213