Wie das Configuration Manager Team auf seinem TechNet-Blog berichtet, steht seit heute das Update 1606 für den SCCM bereit.
Einige der Neuerungen:
Support für Windows 10 Anniversary Update
Windows Information Protection (ehemals EDP)
Windows Defender Advanced Threat Protection
Integration für "Windows Store for Business"
Richtlinien für Windows Hello
uvm.
Eine komplette Auflistung der Änderungen und Neuerungen ist hier zu finden:
http://technet.microsoft.com/en-US/library/mt752488.aspx
Das Update wird automatisch, aber erst nach und nach verteilt. Wer zu den Ersten gehören möchte, die es bekommen, kann dieses PowerShell-Skript nutzen:
https://gallery.technet.microsoft.com/ConfigMgr-1606-Enable-043a8c50
Viel Spaß damit!
Da ich diese Woche unterwegs war kommt es etwas "verspätet": Microsoft hat das Releasedate für Windows Server 2016 und System Center 2016 bekannt gegeben. Das Microsoft Windows Server Team schreibt auf seinem Blog:
We are excited to announce the official launch of Windows Server 2016 will be at the Ignite conference this Fall.
Die Ignite-Konferenz (quasi der Nachfolger der TechEd) findet Ende September (26.-30.09.) in Atlanta statt. Zeitgleich wird also der Release stattfinden – wir dürfen uns also freuen!
Gleichzeitig schreibt das MS Team, dass die aktuelle Technical Preview 5 gleichzeitig die letzte ist und diese auch bereits feature-complete ist, also alle künftigen Funktionen enthält.
Der Download der TP5 kann hier erfolgen:
https://www.microsoft.com/en-us/evalcenter/evaluate-windows-server-technical-preview
Eine interessante Frage eines Kollegen brachte mich dazu, heute Folgendem auf den Grund zu gehen: Outlook speichert E-Mail-Adressen, die man in der Vergangenheit benutzt hat, um Mails zu senden, automatisch ab und stellt diese beim Eingeben von Empfänger-Adressen als Autovervollständigung zur Verfügung:

Die Frage war nun, ob man diese Adressen irgendwie als normalen Kontakt benutzen kann.
Und ja, man kann! Die Adressen werden in einer (oder bei mehreren Postfächern) mehreren Dateien im Pfad C:\Users\BENUTZER\AppData\Local\Microsoft\Outlook\RoamCache gespeichert: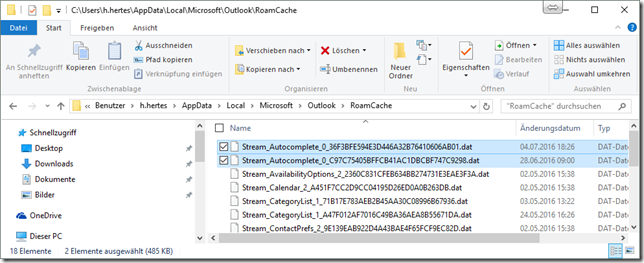 Das Tool NK2Edit kann nun diese Einträge lesen und Exportieren: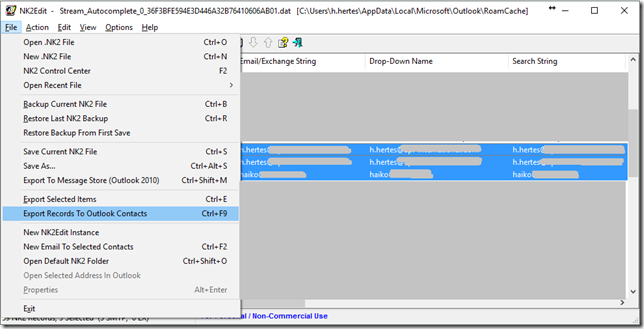 Es ist für den privaten Einsatz kostenlos, für den kommerziellen Einsatz kann es 14 Tage als Testversion genutzt werden, danach muss eine Lizenz erworben werden.
Das Tool ist hier zu finden:
http://www.nirsoft.net/utils/export_nk2_autocomplete_outlook_contacts.html