Bei dem Versuch, einen LSI RAID-Controller auf die aktuelle Firmware zu bringen, tauchte folgender Fehler auf: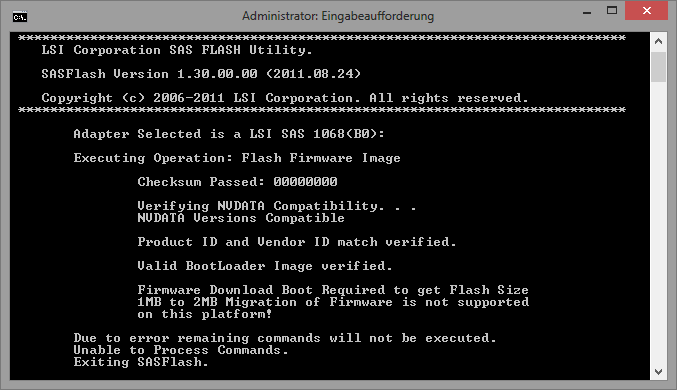 Der konkrete Fehlertext lautet:
Firmware Download Boot Required to get Flash Size 1MB to 2MB Migration of Firmware is not supported on this platform!
Selbiger Fehler tritt auch auf, wenn man den Flash-Vorgang aus einer WinPE oder sogar einem Linux-System heraus versucht.
Das Problem hierbei ist, das weder Linux noch Windows die Migration der Firmware-Größe unterstützen.
Einzige Lösung: Booten einer DOS-Diskette (oder USB-Stick) und Ausführen der sasflash.exe (in der DOS-Version!) von diesem Datenträger aus!
Will man den WSUS-Server ohne eine Internetverbindung installieren, ist der klassische Weg über den Server-Manager ("Rolle hinzufügen") nicht geeignet, da dieser die notwendigen Daten aus dem Internet bezieht.
Als Alternative kann man sich das WSUS-Setup bei Microsoft frei herunterladen. Allerdings benötigt dieses einige Rollen und Rollendienste sowie Features, die man nun "von Hand" installieren muss (Beim Weg über den Servermanager wären sie automatisch mit ausgewählt worden).
Um nun diese Installation der Abhängigkeiten zu vereinfachen, ist dieses kurze PowerShell-Skript geeignet:
1
2


Import

-

Module ServerManager
Get

-

WindowsFeature OOB

-

WSUS 

|

 

Select

 

-

exp DependsOn 

|

 Add

-

WindowsFeature
Insbesondere in kleinen und mittleren Unternehmen läuft der Windows Server Update Service (WSUS) nicht auf einem vollwertigen SQL-Server, sondern auf einer Windows Internal Database, welche bereits Bestandteil des Windows Server 2008 (R2) ist, und somit direkt bei der Installation von WSUS mitinstalliert werden kann.
Das Problem: Wenn es um Arbeitsspeicher geht, verhält sich die WID wie ein "großer" SQL-Server - sie nimmt was sie bekommen kann.
Dieses Verhalten lässt sich beim regulären SQL-Server u.a. mit dem SQL Server Management Studio beeinflussen. Dieses Programm ist allerdings nicht Bestandteil der WID-Installation.
Die Lösung: Das frei erhältliche SQL Management Studio Express bietet genau diese Möglichkeiten.
Vorgehensweise:
1. SQL Management Studio Express downoaden
http://www.microsoft.com/de-de/download/details.aspx?id=8961
2. SQL Management Studio Express installieren
Ist nicht weiter schwer, einfach den Setup-Assistenten benutzen...
3. Verbindung zur WID aufbauen
Dazu muss das Management Studio u.U. als Administrator ausgeführt werden. Als Verbindungsziel wird
\\.\pipe\mssql$microsoft##ssee\sql\query
verwendet.
4a. Konfiguration mittels T-SQL
Nun müssen folgende beiden T-SQL Abfragen ausgeführt werden:
sp_configure 'show advanced options', 1;
reconfigure;
go
"Ausführen" anklicken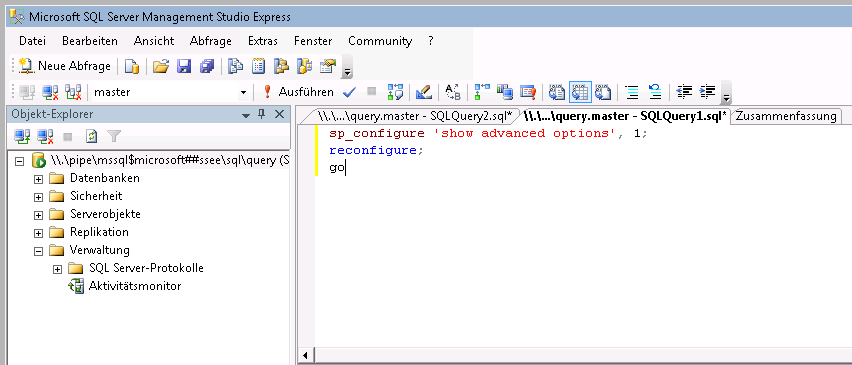 sp_configure 'max server memory', 256;
reconfigure;
go
(Den Wert 256 durch das gewünschte Maximum ersetzen )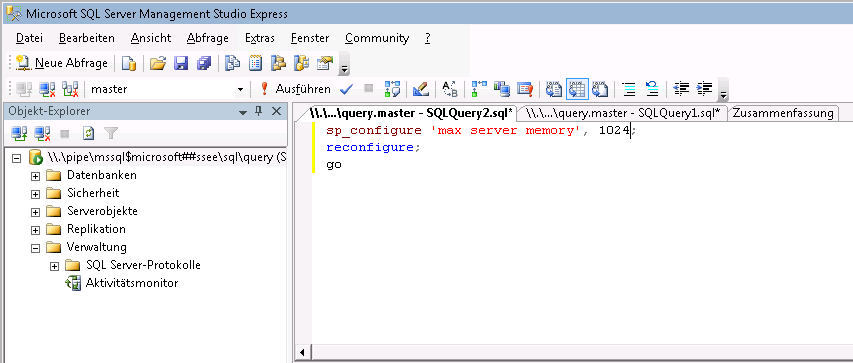 "Ausführen" anklicken
4b. Konfiguration mittels GUI
Rechtsklick auf den obersten Eintrag im Objekt-Explorer, im Kontextmenü "Eigenschaften" auswählen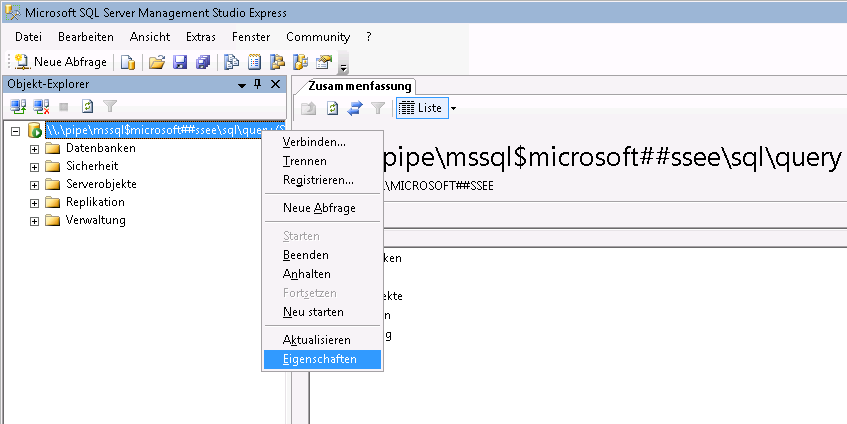 Im neu geöffneten Fenster den Bereich "Arbeitsspeicher" wählen und dort den minimalen und den maximalen Speicherwert eintragen.

Das war es schon gewesen. Evtl. muss die Datenbank neu gestartet werden...