Sicherlich ist den Meisten bekannt, dass Windows seit vielen Generationen out-of-the-box als NTP-Client genutzt werden kann - also die Uhrzeit von einem NTP-Server beziehen kann. Aber dass sowohl Windows Server (seit WS2003) als auch Windows Client (seit Win XP) auch mit Bordmitteln als NTP-Server genutzt werden können, dürfte weitgehend unbekannt sein. Das Ganze lässt sich in einigen wenigen Schritten erreichen:
Windows Zeitdienst W32Time auf automatischen Start setzen
W32Time als NTP-Server konfigurieren (Registrierungsschlüssel)
W32Time Dienst neustarten
Firewall auf udp/123 für Verbindungen von außen öffnen
Natürlich kann man das sehr effizient mittels PowerShell erledigen. Dazu habe ich ein einfaches Script geschrieben:
# This script makes a Windows 10 PC acting as a NTP server 


 


#Enable autostart for W32Time Service




Set-Service

 

-Name

 W32Time 

-StartupType

 Automatic
 


# Configure W32Time Service to act as a NTP server




Set-ItemProperty

 

-Path

 HKLM:\System\CurrentControlSet\Services\W32Time\TimeProviders\NtpServer 

-Name

 Enabled 

-Value

 

1


 


# Update W32Time service


w32tm.exe 

/

config 

/

update
 


# Restart W32Time service




Restart-Service

 

-Name

 W32Time
 


# Check configuration - VMICTimeProvider / Enabled should be "1" now


w32tm.exe 

/

query 

/

configuration
 


# Create an inbound rule for the Windows Firewall


New

-

NetFirewallRule 

-DisplayName

 

"Allow NTP UDP/123 Incomming"

 

-

Profile Any 

-

Action Allow 

-

Direction Inbound 

-

LocalPort 

123

 

-

Protocol udp 

-

Enabled true
Bei der Prüfung von SCOM-Warnungen fiel mir diese hier besonders ins Auge: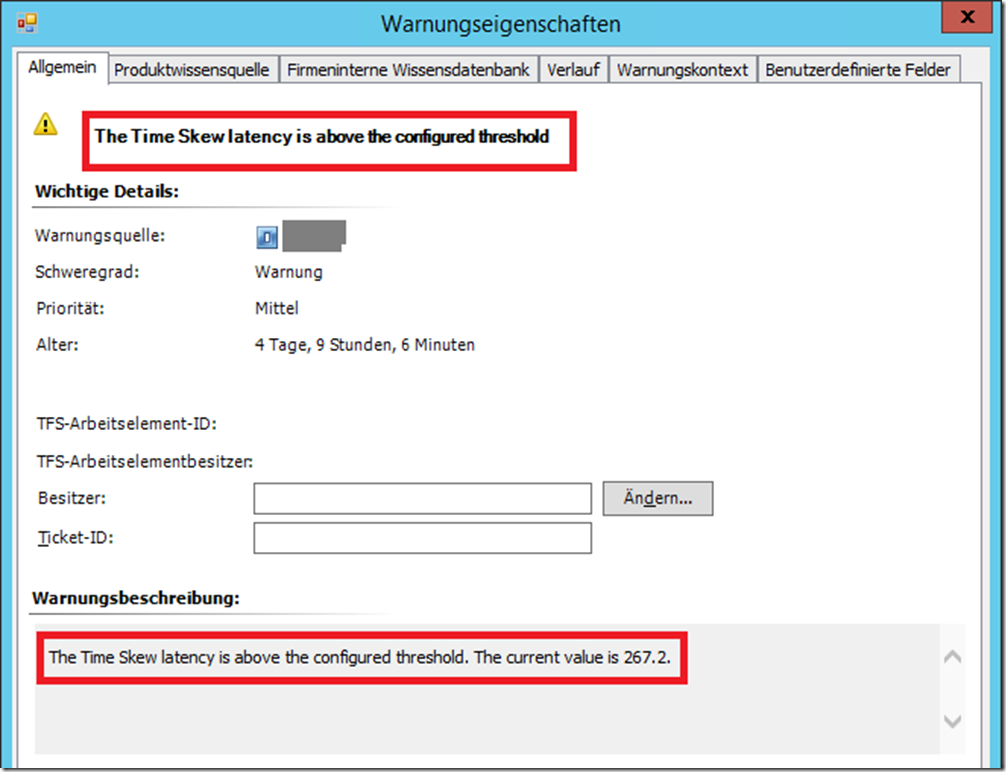 Die Meldung "The Time Skew latency is above the configured threshold" besagt im Wesentlichen, dass die Zeitdifferenz zwischen einem "normalen" DC und dem PDC-Emulator zu hoch ist, in diesem Fall bei 267 Sekunden liegt und damit über der Warnungs-Schwelle von 5 Sekunden. Und tatsächlich, die Server haben eine sichtbare Zeitdifferenz:

Nun ist es ja so, dass alle Server einer Domäne die Uhrzeit beim PDC-Emulator abholen – oder es zumindest sollten. Dieser wiederum sollte so konfiguriert sein, dass er die Zeit von einer gültigen externen Zeitquelle empfängt. Das erreicht man recht einfach mit folgenden Aufrufen:
w32tm.exe /config /manualpeerlist:"0.de.pool.ntp.org 1.de.pool.ntp.org 2.de.pool.ntp.org 3.de.pool.ntp.org" /syncfromflags:manual /reliable:YES /update

w32tm.exe /config /update

PS: Restart-Service w32time
Im festen Glauben, dass dies auch in meiner Umgebung so ist, habe ich dies dennoch gegengeprüft:
Der Aufruf
netdom query fsmo
liefert die Verteilung der FSMO-Rollen, u.a. erfährt man eben auch, welcher DC aktuell der PDC-Emulator ist.

Nun kann man mit
w32tm /monitor
auf einem der DCs prüfen, welcher DC woher seine Zeit bekommt: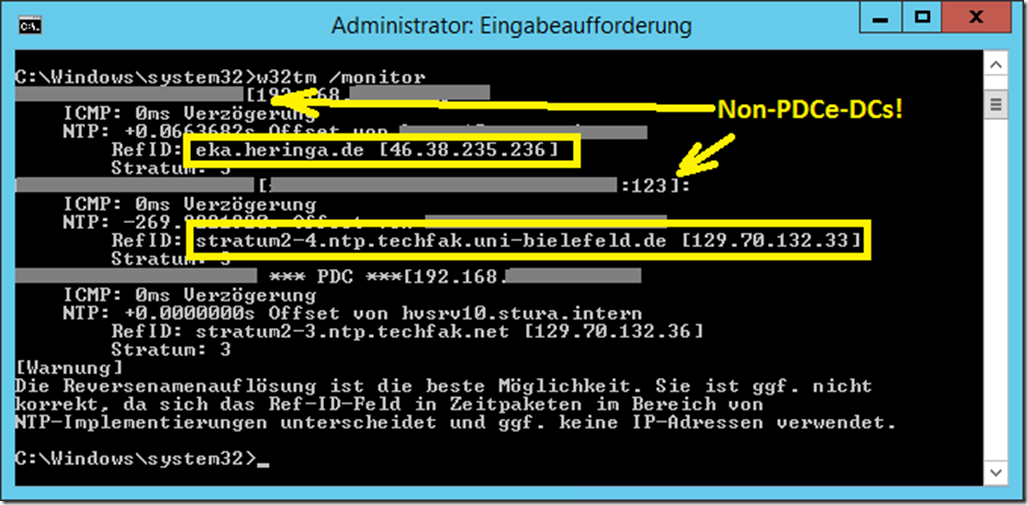 Und siehe da – die beiden DCs, die nicht PDC-Emulator sind bekommen ihre Zeit von irgend einem Server "frei im Internet". Dies kann z.B. daran liegen, dass diese DCs früher mal PDC-Emulator waren und daher noch auf die Synchronisierung mit einer externen Quelle eingestellt sind. Dies lässt sich sehr leicht auf den betreffenden DCs (also denjenigen, die kein PDC-Emulator mehr sind) beheben. Dazu ist lediglich der Aufruf
w32tm /config /syncfromflags:domhier /update

net stop w32time

net start w32time
notwendig:

Nach kurzer Zeit sollte die Uhrzeit dann wieder passen. Zur Sicherheit kann man dies nun noch einmal mit
w32tm /monitor
überprüfen: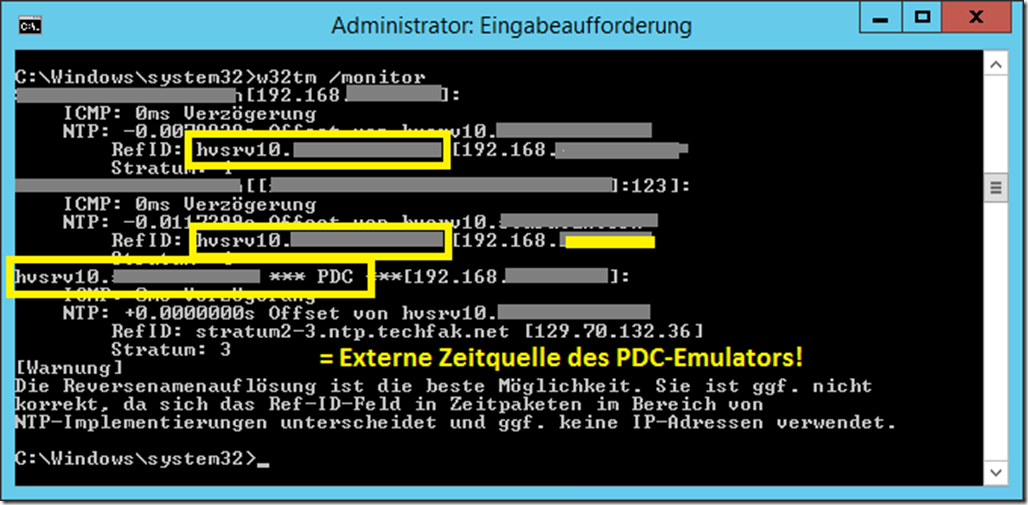 Jetzt sieht man, dass die beiden ersten DCs (beide kein PDC-Emulator) von HVSRV10 (dem PDC-Emulator) synchronisieren und dieser wiederum von einer externen Zeitquelle (stammt aus dem NTP-Pool).
Nun stimmen auch die Zeiten aller DCs wieder überein: