Wie Jim Alkove, Windows Enterprise Program Manager,  in einem Blog-Artikel vor wenigen Tagen bekannt gegeben hat, wird es bei künftigen Betriebssystemen eine Änderung bezüglich Updates geben.
Enterprise-Kunden können dann aus einem von drei Pfaden wählen, der bestimmt, wie Updates verteilt werden. Ein Pfad sieht vor, alle Updates so schnell wie möglich zu bekommen und zu verteilen, um immer up-to-date zu sein. Ein weiterer Pfad sieht vor, nur die kritischen und Sicherheits-Updates zu bekommen. Der dritte Pfad wird ein Mittelweg zwischen den beiden Extremen sein.
Dabei soll auch die Möglichkeit bestehen, die eigenen Benutzer aufzuteilen und gruppenabhängig die Zuweisung zu einem dieser Pfade vorzunehmen.
Was Bestand haben wird ist, das Sicherheitsupdates und andere kritische Updates monatlich veröffentlicht werden. Vermutlich wie bekannt zum "Patch-Tuesday".
Nun bleibt also abzuwarten, wie sich das alles entwickelt und wie Microsoft diese Ankündigungen umsetzt.
Seit dem 01. Oktober stehen nun neben der Technical Preview von Windows 10 auch die Previews für den kommenden Windows Server sowie für System Center bereit: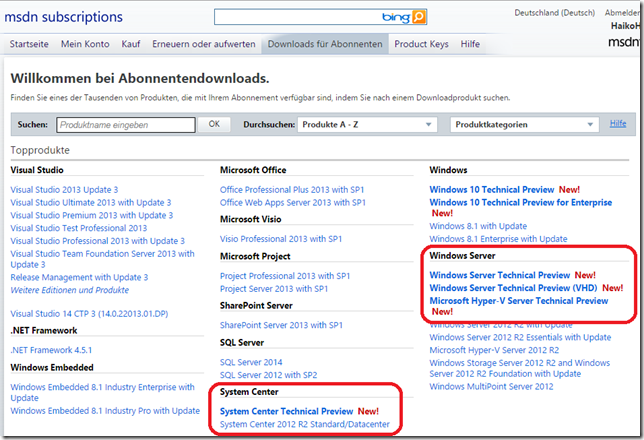 In 5 großen Bereichen soll es Änderungen beim Windows Server geben:
Infrastructure Upgrades
Networking
Storage
Remote Desktop
Identity and Access Management
Dies ist einem Blog-Artikel vom "Microsoft Server and Cloud Plattform Team" zu entnehmen.
Ein finaler Name für den neuen Windows Server steht noch nicht fest, aber ich vermute, dass er "Windows Server 2015" heißen wird. Über Details werde ich zeitnah berichten.
Den Download der Preview erhält man über die MSDN oder das Evaluation Center.