Erst kürzlich bekam ich von unserem SCCM-System eine E-Mail mit folgendem Betreff:
Warnung: Warnung: Nicht genügend Speicherplatz für Datenbank an Standort "CAS" vorhanden
Als ich der Sache auf den Grund ging, stellte ich fest, dass der Ordner C:\SCCMContentLib ziemlich groß geworden ist: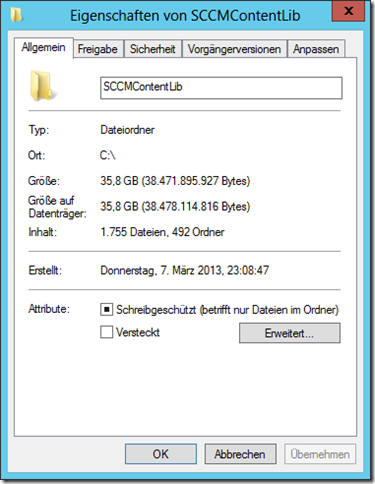 Der Grund hierfür ist, dass auch auf einer CAS – wo kein DP vorhanden ist – Daten für die Verteilung abgelegt werden, wenn dieser Content auf der CAS angelegt wurde, was im Sinne einer zentralen Verteilung sicher oft gemacht wird. Da aber nun kein DP vorhanden ist, kann man das Laufwerk nicht beeinflussen, auf dem diese Daten abgelegt werden sollen. Daher wird standardmäßig das Laufwerk verwendet, welches über den meisten freien Speicherplatz verfügt (zum Zeitpunkt der Installation der CAS).
Dies hätte man verhindern können, wenn man vor der Installation der ContentLibrary auf der CAS ein leeres File mit dem Namen "no_sms_on_drive.sms" im Laufwerks-Root des Laufwerkes ablegt, auf dem keine SCCM-Daten liegen sollen.
Um nun aber nachträglich die Daten von einem Laufwerk auf ein anderes zu bekommen, ist das Tool "ContenLibraryTransfer" gedacht, welches sich im Configuration Manager Toolkit befindet.
Neben diesem Tool sind dort auch noch weitere enthalten: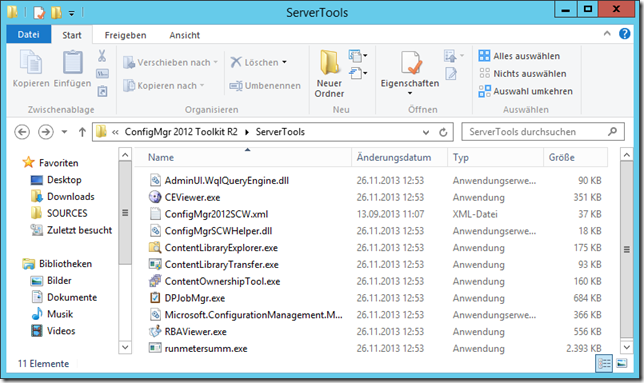 Hinweis: Es wird immer nur die aktuellste Version von Microsoft angeboten – also aktuell 2012 R2. Diese Version funktioniert auch z.B. auf einem SCCM 2012 SP1!
Die Benutzung ist relativ einfach:
C:\Program Files (x86)\ConfigMgr 2012 Toolkit R2\ServerTools\ContentLibraryTransfer.exe –SourceDrive <AktuellesLaufwerk> –TargetDrive <ZielLaufwerk>
Das Tool kopiert dann die Inhalte auf das Ziellaufwerk und sorgt dafür, dass alle internen Verweise entsprechend geändert werden. Außerdem wird anschließend auf dem Quelllaufwerk eine NO_SMS_ON_DRIVE.SMS angelegt.
Am Ende sollte es dann so aussehen: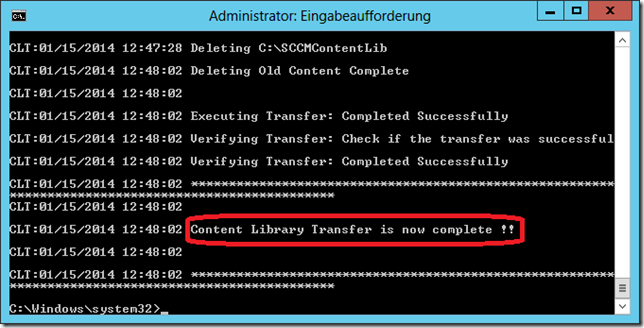 Folgender Fehler ist mir heute begegnet, als ich einen weiteren Server als Primary Site zu einer bestehenden SCCM-Hierarchie hinzufügen wollte: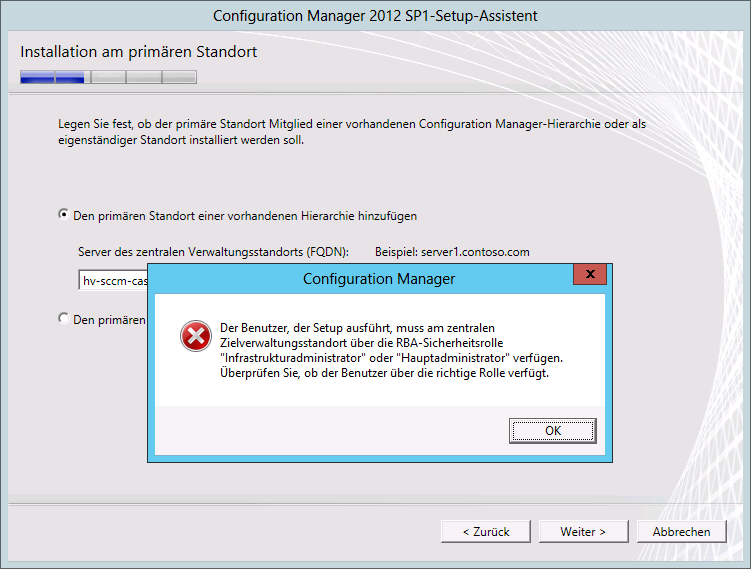 Der Fehlertext lautet: "Der Benutzer, der Setup ausführt, muss am zentralen Zielverwaltungsstandort über die RBA-Sicherheitsrolle "Infrastrukturadministrator" oder "Hauptadministrator" verfügen. Überprüfen Sie, ob der Benutzer über die richtige Rolle verfügt."
Die englische Fehlermeldung hierzu lautet: "The setup login user does not have sufficient permission to configure replication with specified central administration site"
Da der User bereits vorher an einem anderen Standort zu Installation problemlos genutzt wurde und auch über die Hauptadministrator-Rolle ("Full Administrator") verfügte, musste es ein anderes Problem sein.
Nach einigen Tests und Recherchen konnte ich den Fehler finden und beseitigen. Die beiden Standorte (Standort der CAS und Standort der neu zu installierenden Primary Site) sind über Site-to-Site-VPNs mit Hilfe vom ISA-Server bzw. Forefront TMG verbunden. Hier gibt es eine Filter-Regelung namens "Strikte RPC-Einhaltung erzwingen" ("Enforce strict RPC compliance"):
(Zu finden unter "Webzugriffsrichtlinie" / "RICHTLINIE" / "Protokolle" / "Filterung" / "RPC-Protokoll konfigurieren")
Nach dem ich diese Option auf beiden Seiten deaktiviert und die VPN-Verbindungen neu aufgebaut hatte, ließ sich die neue Primary Site problemlos installieren, da nun DCOM-Traffic zulässig war.