Heute bin ich über folgendes Problem gestolpert: Bei einem neuen Mitarbeiter enthielt die E-Mail-Adresse im Office 365 einen Unterstrich ("Underscore") an erster Stelle:

(Zusätzlich wurde nicht die reguläre Domäne sondern eine "@*.onmicrosoft.com" verwendet…)
Die Benutzer werden mittels "Azure AD Connect" vom lokalen Active Directory nach Azure AD synchronisiert und bilden dort die Grundlage für die Office 365 Benutzer. Daher kann man die E-Mail-Adressen auch nicht online ändern, sondern nur on-premise. Im lokalen AD war aber auf den ersten Blick alles in Ordnung: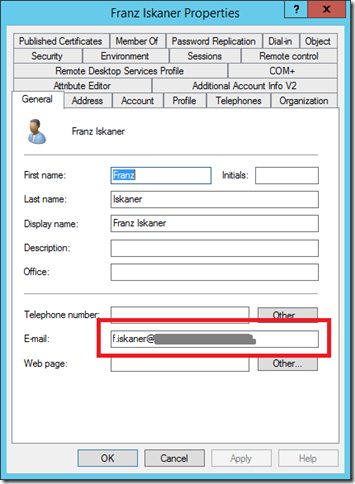 Nach kurzer Recherche fand ich einen Microsoft KB Artikel, der mich auf die Lösung brachte:
In this scenario, after directory synchronization is run, the special character is replaced by an underscore character. Therefore, the user's Office 365 email address contains an underscore character instead of the special character.
Dabei wird eine Liste mit "verbotenen" Zeichen aufgeführt (die merkwürdigerweise auch das @-Zeichen enthält…), zu denen auch das Leerzeichen gehört. Bezogen ist das ganze auf die AD-Attribute "mail" und "proxyAddresses". "Mail" war in Ordnung, aber "proxyAddresses"…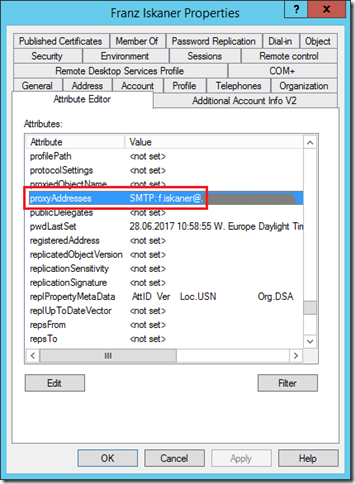 …nicht! Hier war ein Leerzeichen zwischen "SMTP:" und der eigentlichen E-Mailadresse. Nach dem ich dieses entfernt hatte und schnell noch den DirSync mit
Start-ADSyncSyncCycle -PolicyType Delta
angestoßen hatte, war der Benutzer mit seiner korrekten E-Mail-Adresse in Office 365 vorhanden!