Wenn man auf einem Server bereits den SQL-Server installiert hat und nun vor der Installation des System Center 2012 Configuration Manager den Hostnamen dieses Servers ändert, kommt es am Ende des Setup-Assistenten zu einem Fehler. Der deutsche Fehlertext lautet:
Der beim Setup angegebene SQL Server-Name muss mit dem Namen in "sys.servers" des SQL Server-Computers übereinstimmen.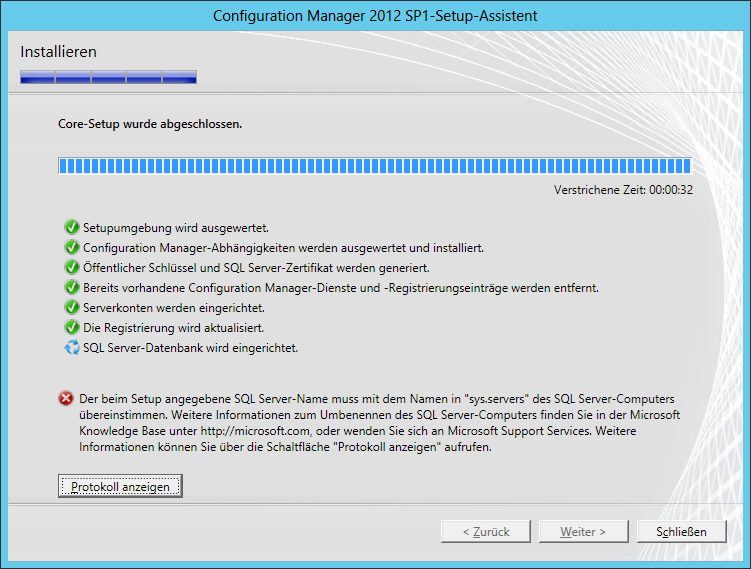 Dieses Fehler lässt sich recht leicht beheben. Dazu muss zuerst die SCCM-Instanz deinstalliert werden.
Danach muss folgende Query im SQL Server-Manager ausgeführt werden:
1
2
3
4


EXEC

 sp_dropserver 

"ALTER_HOSTNAME"




GO




EXEC

 sp_addserver 

"AKTUELLER_HOSTNAME"

,

 

"local"




GO
Den "alten"  Hostnamen kann man auch dem Setup-Log unter c:\ConfigMgrSetup.log entnehmen. Dort findet sich eine Meldung in etwa wie folgt:
ERROR: SQL server's Name '[ALTER_HOSTNAME]' in sys.servers does not match with the SQL server name '[NEUER_HOSTNAME]' specified during setup. Please rename the SQL server name using sp_dropserver and sp_addserver and rerun setup.  $$<Configuration Manager Setup><03-07-2013 22:07:09.409-60><thread=364 (0x16C)>
Nach dem Ausführen der Query im SQL Server-Manager muss der Server neugestartet werden. Danach kann das SCCM-Setup erneut durchgeführt werden.