Wie hier
http://windowsteamblog.com/windows/b/bloggingwindows/archive/2012/07/18/windows-8-will-be-available-on.aspx
angekündigt, wird Windows 8 nun also am 26.10.2012 erscheinen...
Auf einem Test-Server für eine System Center Configuration Manager 2012 Umgebung lief auch der dazu notwendige SQL-Server. Da die Hardware einen Defekt aufwies, musste ich das System auf eine neue Hardware umziehen. Problematisch: Alte und neue Hardware waren derart verschieden, dass hier Probleme zu erwarten gewesen wären, wenn ich die Platten einfach nur umgesteckt hätte. Also habe ich vorher einen Sysprep inkl. /generalize laufen lassen. Nach dem Umbau der Festplatten in den neuen Server startete dieser Anstandslos. Das Problem: Die SQL-Server-Dienste starteten nicht!
Problem:
Durch den SYSPREP sind die privaten Schlüssel für die SSL-Kommunikation verloren gegangen, da der alte User-Account ja danach nicht mehr vorhanden war. Dies war u.a. im Logfile "C:\Program Files\Microsoft SQL Server\MSSQL10_50.MSSQLSERVER\MSSQL\Log\ERRORLOG" nachzulesen:
"The server could not load the certificate it needs to initiate an SSL connection. It returned the following error: 0x8009030d [...]"
Lösung:
Im "SQL Server Configuration Manager" die Zuordnung zum alten Zertifikat löschen: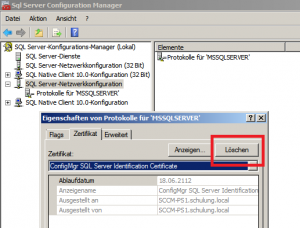 Nach einem Reboot des Servers generiert dieser ein neues Zertifikat und trägt dieses hier entsprechend ein (Es existieren dann 2 Zertifikate mit gleichem Namen, man kann sie aber u.a. am Ausstellungsdatum unterscheiden).
Dieses neue Zertifikat muss nun noch zu den "Vertrauenswürdigen Stammzertifizierungsstellen" hinzugefügt werden bzw. evtl. den Clients als vertrauenswürdig bekanntgegeben werden. Danach sollte alles wieder funktionieren, im Logfile steht dann:
"A self-generaterd certificate was successfully loaded for encryption. [...]"