Nur als kurze "Randnotiz": Wenn man eine Office 365 Subscription hat und seine Benutzerkonten aus einem On-Premise Active Directory nach Azure AD synchronisiert, dann kann man zwar an verschiedenen Stellen Dinge wie Passwort-Reset und andere Self-Service-Angebote aktivieren, diese aber nicht (so ohne Weiteres) benutzen. Der Benutzer bekommt beim Versuch, das Kennwort zu ändern eine Fehlermeldung, in etwa so: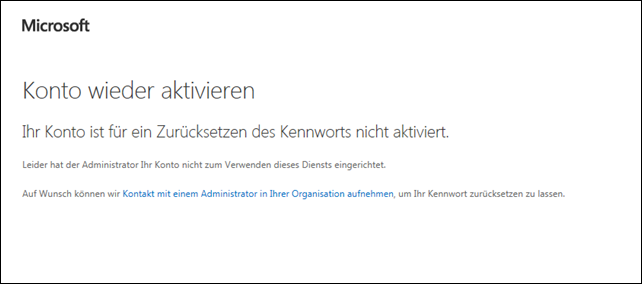 oder so:

Im Wortlaut für die Suche:
"Ihr Konto ist für ein Zurücksetzen des Kennworts nicht aktiviert. Leider hat der Administrator Ihr Konto nicht zum Verwenden dieses Dienstes eingerichtet."
bzw.
"Sie können Ihr Kennwort hier nicht ändern. Eine Kennwortänderung auf dieser Website wird von Ihrer Organisation nicht gestattet."
Das Problem dabei ist: Mit dem in Office 365 enthaltenen Azure AD Lizenzen (Entspricht der Lizenzstufe Azure AD Basic) ist das nicht möglich – man bräuchte dazu Azure AD Premium! Und das wiederum wäre nur für dieses eine Feature (wenn man den Rest nicht braucht) in meinen Augen zu teuer…
Zitat aus der Microsoft Doku (https://docs.microsoft.com/en-us/azure/active-directory/active-directory-passwords):
Pricing and availability

Azure AD Password Reset is available in 3 tiers, depending on which subscription you have:

Azure AD Free - cloud-only administrators can reset their own passwords
Azure AD Basic or any Paid O365 Subscription - cloud-only users and cloud-only administrators can reset their own passwords
Azure AD Premium - any user or administrator, including cloud-only, federated, or password synced users, can reset their own passwords (requires password writeback to be enabled)
Heisst also, man kann nur die nicht-synchronisierten Accounts in der kostenlosen Stufe ändern bzw. zurücksetzen lassen.